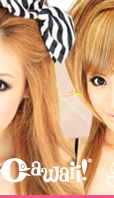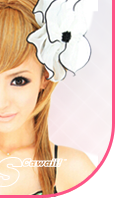 ---
It's December! Time to tie the loose ends and complete our annual to-do-list! Christmas is coming, and that the new year is waiting, time to make yourself charming and stunning with Cawaii!
Despiting all the joy and good ambience on December, sadly we have something to announce. Dikarenakan menurunnya nilai tukar Rupiah terhadap mata uang asing yang cukup significant (sekitar 30%-40%, yaitu dari Rp 9.000,- per USD yang kini sudah menjadi Rp 12.000,- lebih), maka dengan berat hati dan tanpa mengurangi rasa hormat kami terhadap customer, kami harus mengadjust harga, menyesuaikan pada nilai mata uang yang kini sangat tinggi :(
Tetapi jangan kuatir, kami sudah berusaha sangat keras agar kenaikan harga ini tetap tidak memberatkan pada pihak customer Cawaii! yang kami hargai. Kenaikan harga ini sudah kami tekan menjadi sekitar 10-20% saja. Dan pastinya, kami akan tetap memberikan barang dengan kualitas sama seperti sebelumnya :) Kenaikan harga ini akan berlaku efektif per tanggal 9 Desember 2013.
Tidak ada pengurangan kualitas maupun kuantitas produk. Ini adalah wujud dari terima kasih kami terhadap para customer setia Cawaii! :) However, santa hears us. We still can get a high quality product with a super affordable and reasonable price! ;)
Take a peek of our new pricelist, effective from Monday, 9th December 2013. Download it here

---
We proudly announce that we were featured on SISTER, Shop&Shop and DRESSCODE Magazine July-August-September-December edition! Featured on the Hall of Fame: Titi DJ, Sandra Dewi and Shireen Sungkar using Cawaii! Products! Check these out ladies ;)
Cawaii! dan semua sub-brands nya adalah merk dagang dengan lisensi resmi dan sudah terdaftar secara hukum. Berhati-hatilah ketika anda sedang menggunakan Google untuk mencari data/gambar suatu produk! Google Images are not Google's! Foto dengan watermark bukanlah foto yang bisa anda simpan/sebarkan untuk keperluan perorangan/golongan! Google tidak pernah menyediakan atau memberikan royalty free images. Google merupakan media yang berfungsi untuk menyerap semua informasi yang terdapat dalam suatu website dari seluruh dunia. Menyimpan atau mengedarkan foto yang terdapat pada website ini untuk keperluan promosi barang lain adalah merupakan tindak pidana yang dapat dipertanggungkan secara hukum.
Be smart buyers! Jangan tertipu dengan produk palsu yang menawarkan "embel-embel" harga murah, original dan lain sebagainya, dengan menyalahgunakan nama dan foto Cawaii! atau semua sub brands Cawaii!, karena Anda-lah yang akan dirugikan jika menerima produk palsu. Remember: What you see is what you get.
Kami tidak pernah menipu pembeli dengan menjual barang berbahan sintetis dan mengaku bahwa barang tersebut adalah human hair agar harga jualnya menjadi tinggi. Informasi produk yang kami berikan pada web ini adalah apa adanya dan sesuai dengan kenyataan. We guarantee all products here are ORIGINAL, BNIB (Brand New In Box) dan sesuai description :)
---
We are the leading online shop and supplier of clip on hair extensions, hair tools and other hair products imported from Japan. Our hair extensions has 100% customer satisfaction. We provide the highest degree of customer service.
We will not be beaten on price for the same quality clip in hair!
Cawaii! is made from 100% Premium human hair. It is natural looking, long lasting, no temperature limit, able to be dyed and stylized -- just like your own hair! While S-Cawaii! is made from 100% Premium synthetic fibre. Some people called it "Human Hair Like Fibre", because it's natural shine, smooth and simply adorable! The best Japanese synthetic fibre material you can find!
Simply clip in and out in just a few seconds, completely invisible! Even your friends won't never tell! Feel free to browse our products Here
---
* Required fields
Or mail your inquiry to contact@cawaiihair.com. Thank You.